"Wrap in pig skin & shoot it again"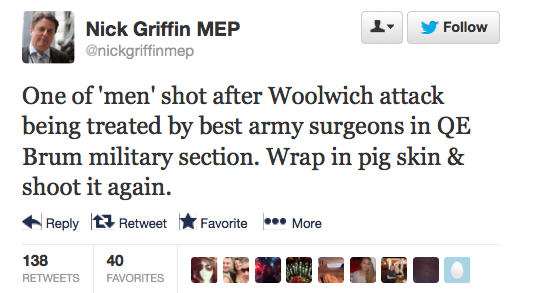 The British National Party leader, Nick Griffin, who visited Woolwich yesterday, provoked widespread disgust for tweeting that the alleged killers should be wrapped in "pig skin" and shot again. The English Defence League, which has said the killing shows Britain is "at war" with Islamic extremism, will stage a march today in Newcastle, where it will protest over plans to open an Islamic school.
Geachte excellentie Timmermans. Is het niet eens tijd voor een negatief
reisadviesje
voor de UK? Gaat niet helemaal goed daaro. (
bron
)
Update
: Negatief reisadvies voor Husby, Tensta, Hagsätra, Kista, Rinkeby, Rågsved, Skogås, Fittja, Älsvjö, Vällingby, Jordbro & Södertälje. Allemaal gezellige Vögelåår-wijken in
Zweden
.