Kwaak kwaak kwaak. Blasfemie!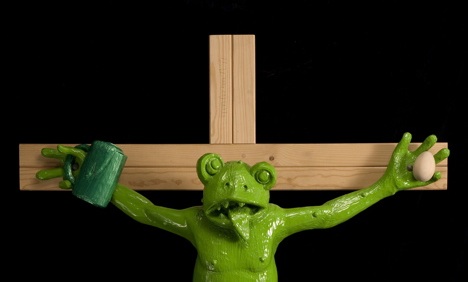 Geknipt & geplakt uit de ANP Beeldbank. Ook de CDA-junta van Italië heeft weer keihard toegeslagen. Newsflash! A sculpture of a crucified frog that went on show in a Bolzano museum this weekend has sparked a backlash from local clerics and politicians who want the work removed. The metre-high work by late German artist
Martin Kippenberger
belongs to his Fred the Frog series and depicts a warty, pop-eyed amphibian nailed to a cross with a frothing mug of beer in one hand. Curators at Bolzano museum of modern art Museion said that Kippenberger's work was a self-portrait of the artist 'in a state of profound crisis', but their explanation has been given short shrift by local bishop Wilhelm Egger.
"The crucified frog has shocked many visitors to the Museion and has hurt their religious feelings."